The Texas sheriff nominated to lead Immigration and Customs Enforcement pushed a false claim that a white man murdered a seven-year-old black girl from Houston, even after receiving a tip that the actual killers were black.

Ed Gonzalez, the Harris County sheriff and the Biden administration's choice for ICE director, worked closely with Black Lives Matter activist Shaun King to identify Jazmine Barnes's killer. Gonzalez amplified the family's claim that the gunman was white even after he received a tip that Barnes's killers were black. An attorney for the man King falsely identified as the shooter said King's allegation might have contributed to his client's suicide.

Gonzalez is likely to face scrutiny from Republicans for scaling back cooperation with the federal government on deportations early in the Trump administration. This year, he proposed releasing 1,500 county jail inmates, hundreds of whom faced charges for violent crimes. King is a controversial figure who has come under fire for making false allegations in racially charged incidents.

Jazmine Barnes was gunned down in the back seat of her mother's car on Dec. 30, 2018. On the day of the shooting, Gonzalez said on Twitter that Barnes's family described the gunman as a white male in his 40s. He released a police sketch of a suspect matching that description on Jan. 3, 2019.

A timeline of the investigation shows that King received a tip that Barnes's killers were black later that day. King said that he shared the tip "immediately" with Gonzalez but that they "could not just make sense of it." But Gonzalez, who has been sheriff of Harris County since 2017, told a reporter that King shared the tip that led to the arrest of the real killers, Eric Black, Jr., and Larry Woodruffe, with him "midweek." He continued circulating the incorrect police sketch on social media for two more days.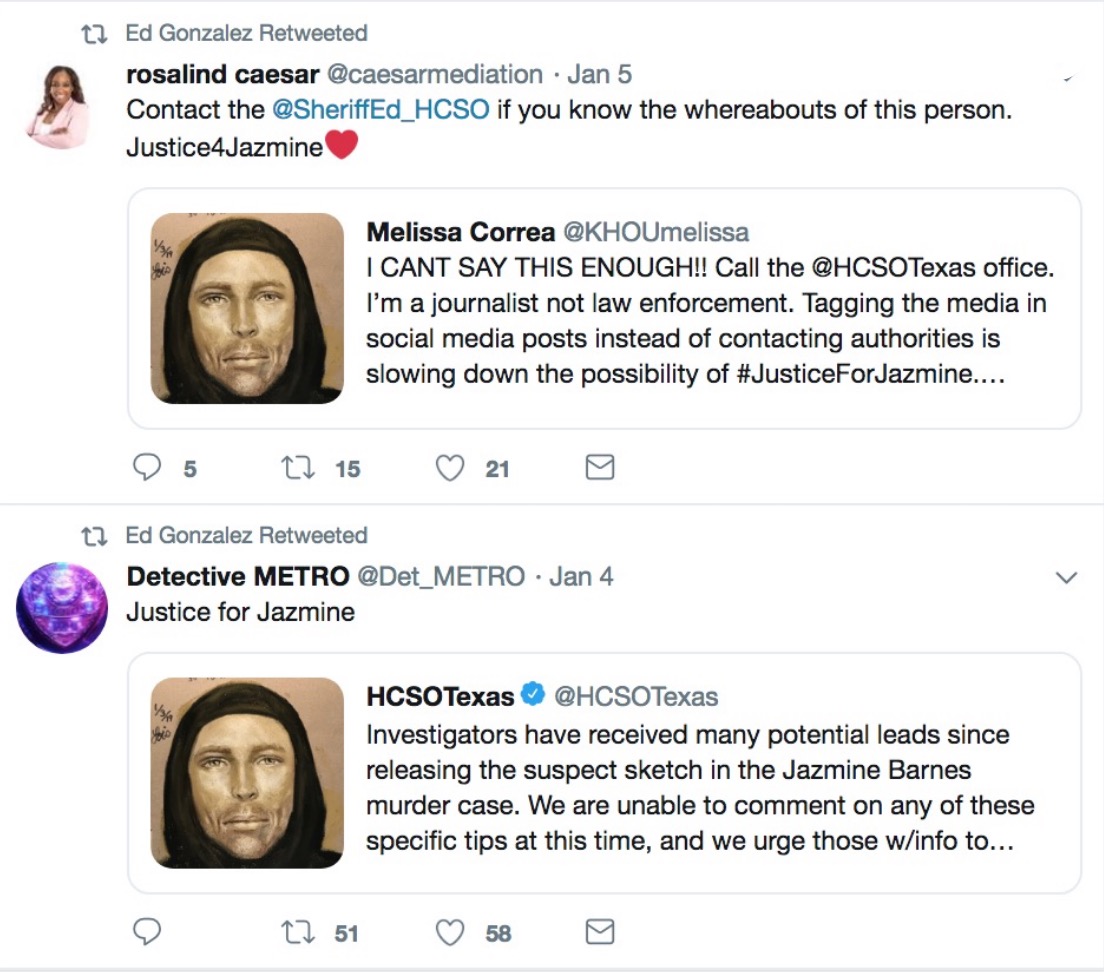 The Barnes murder became a national media sensation after Gonzalez, King, and others trumpeted the girl's mother's belief that the shooting was racially motivated. Attorney Lee Merritt, who represented Barnes's family, leveled a hate crime allegation during a Jan. 3, 2019, press conference he held with Gonzalez.

"We believe it was racially motivated in part because our nation at this moment is a highly racially charged society. We've seen a rise in hate crime," Merritt said.

Gonzalez stopped short of saying the shooting was a hate crime, though he said it could "potentially be race related."

Gonzalez later acknowledged that he received a tip that same day from King that Barnes's killers were Black and Woodruffe, both of whom are black.

Black and Woodruffe were arrested on Jan. 6, 2019, and charged with capital murder.

King pushed the false narrative of a white killer even after he acknowledged receiving a tip about...